視像頻道
Lent Challenge 40 days
1-Mar-2022 - 16-Apr-2022
歡迎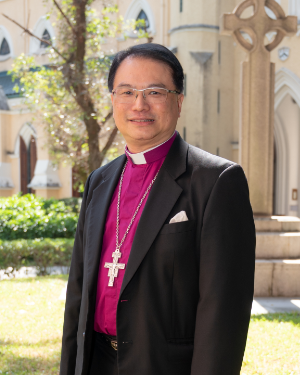 Dear Friends,
Greetings in the name of Jesus Christ! Welcome!
Whether you are looking for the meaning of life or trying to find a church near you, you have come to the right place.
The Hong Kong Sheng Kung Hui is rooted in the Anglican tradition and works to enrich the lives of others through the love of God. We endeavour to proclaim the Gospel of Jesus Christ in today's context and share his transforming power through a variety of programmes and services.
The COVID-19 pandemic has been a trying time for all of us. Our hearts go out to all those who have been physically, socially, emotionally, or economically affected. We are here to serve you and will continue to pray for all the people in Hong Kong and around the world.
Keep well and keep safe! God bless you all!
✝The Rt Revd Matthias Der
Bishop of Diocese of Hong Kong Island
每日靈糧
教省祈禱環
Church of The Ascension
For Church of The Ascension; for the Revd Stephen HUNG and the congregation;
For stewardship, spirituality and outreach ministries;
For cooperation with HKSKH Tung Chung Integrated Services, HKSKH Tung Chung Nursery School and HKSKH Grace Garden for Rehab – Day Activity Centre and Hostel;
For their vision and mission to be inaugurated as a parish in future.